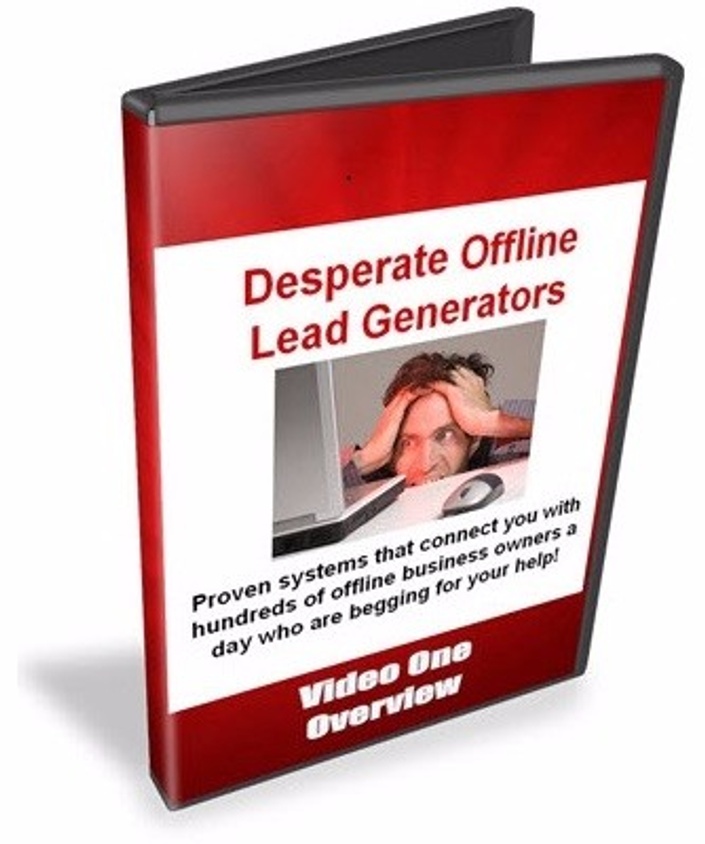 Desperate Offline Business Leads System - Get Small Business Leads For Your Offline Marketing
----------------------------------------------

SATISFIED WARRIOR:

"I just went through 4 videos. There are 3 systems, I knew the first one but the last 2 systems were very good info to generate leads.

I don't know why Dave showed his secret…

But I tell you, this is a very good one. I bought 1 to 3 WSO's almost everyday since I joined to learn and find the best solutions for offline and online biz. But never do any review. This is my first review. So trust me.
Thanks Dave!
Loi"

--------------------------------------------------

-------------------------------------------


SATISFIED STUDENT:

"Lead gen is probably the toughest part of the whole Offline Marketing process when you start out. Cold calling is a tough task and most do hate it (me included).
But Daves' WSO will definitely resolve that part for you.
In clear to understand videos (with great audio, hard to find) you get 3 different systems to receive hot leads into your inbox.
Those are leads which actually NEED and ASK for your service, so you talk to someone which actually ask for what you have to offer…
Overall rating of this WSO?
10 out of 10 - delivers exactly what it promises."
------------------------------------------------------

Your Instructor
A lifelong entrepreneur, Dave has been marketing online since 1999, and has owned over 30 websites, marketing across most platforms, including online, offline, TV, podcasts, webinars, webcasts, social media and radio.

With over 60 online courses published, Dave has been teaching his online business strategies via live seminars / webinars since 2000, and then through video training courses since 2001.

For 11 years, Dave was featured on his own TV show where he introduced millions of people across America to the benefits of selling online.
Dave's show was seen by millions of households on CNBC, Fox Business, Discovery Channel, History Channel, Travel Channel and most other major cable networks.

With over $140 million of has video training courses sold via TV and online, Dave is looking forward to mentoring you to success in the wonderful business of online marketing!
Course Curriculum
Welcome To Desperate Offline Business Leads!
Available in days
days after you enroll